DREAM started in 1991 as Harlem RBI, a Little League for 75 kids in East Harlem. Almost 30 years later, we serve 2,500 youth across East Harlem and the South Bronx through a network of free, extended-day, extended-year DREAM Charter Schools and community sports-based youth development programs.
By developing a whole child model that is responsive to the unique needs of every child, we tackle the cycles of inequity that exist today, creating lifelong learners who are equipped to fulfill their vision of success in and out of the classroom.
DREAM provides youth with opportunities to play, learn, and grow.
Our mission is to level the field by empowering all children to recognize their potential and realize their dreams.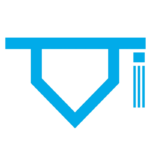 Rigorous Academics

Rigorous Academics
DREAM's curriculum prepares students to fulfill their vision of success, in the classroom and beyond. Across East Harlem and the South Bronx, DREAM Charter Schools serve students from preschool to pre-college, and our scholars consistently outperform city and state peers in ELA and Math.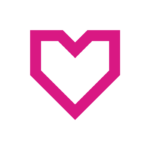 Social-Emotional Learning

Social-Emotional Learning
We believe school should be a place to play, learn, and grow – somewhere that's about more than just grades and testing, where students can develop both critical thinking skills and compassion. That's all part of DREAM's commitment to our Grow the Whole Child model, which is rooted in social-emotional learning, a framework that teaches students to understand and respond to their own emotions and those of the people around them.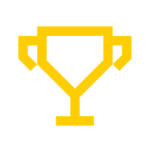 Athletics, Health, & Wellness

Athletics, Health, & Wellness
We offer free, nationally recognized after-school and summer sports-based programs that help our scholars become confident, competent, and caring community members who know what it means to be part of a team.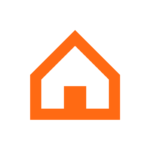 Family Engagement

Family Engagement
DREAM knows that success starts at home, and that's why our families are critical partners. Every summer before school starts, DREAM teachers visit every one of their scholars and families in their homes to get to know them and learn each family's hopes and dreams for their child. Families and school staff actively work together and share decision-making to provide the best for our scholars, every step of the way.
DREAM's education model is all about the promises we make to our families - the things we'll never compromise on. Here's how we stayed true to our model even in the toughest of times.
Rigorous Academics
School looked a little different in 2020—but our high expectations for our scholars never wavered. We know what they're capable of, and they know that what might feel like failure can be just another opportunity to persist. A robust network of support helped sustain our commitment to academic excellence, from getting free hotspots and Chromebooks into our families' homes, to round-the-clock outreach to scholars struggling with logging on. It took a village full of people like DREAM Senior Operations Coordinator Judy, who, at the height of the pandemic, met up with her high school students for socially distanced dog walks to ensure they stayed engaged.
Social-Emotional Learning
When our scholars grapple with current events that are scary or confusing—from our littlest ones to our high school seniors—our mandate as educators is to honor and address their feelings and to hold space for their voices. In 2020, teachers didn't just keep our scholars informed; they guided them through moments that no one could face alone. And it makes a difference. Take Christopher, one of our kindergarteners. After his first day back to in-person school, his mom told us, "Christopher came home and said 'I love school' and we both cried. Never at the two other schools he attended did he once say he loved school."
Athletics, Health, & Wellness
The meaning of summer—of freedom, joy, and infinite possibilities—has always been core to DREAM's foundation. This summer, we had to get creative to bring that spirit to life, pivoting to mostly virtual programming and opt-in, small-group play on our Field of Dreams. Over 600 youth logged on each day for workouts and games, reading activities, virtual field trips, and more. That includes the 150+ high school scholars who took on internships and summer jobs as coaches and mentors, leading remote activities for our little ones—for many of them, representing their first paid work-based experience. "You made my summer special," said one of those high schoolers. "I didn't think it would be as fun as it was."
Family Engagement
In addition to distributing groceries and technology to DREAM families, this year we launched the DREAM is Family Fund to provide direct financial assistance to households impacted by COVID-19. One of our teammates shared the story of a DREAM mom who called her on a break during her shift working at the laundromat. She was having trouble making ends meet, and her scholars had to do their schoolwork in the hallways of their apartment building because that was where the WiFi was strongest. That week, she had seen an email about the DREAM is Family Fund and immediately felt a sense of relief knowing she wouldn't have to tackle everything alone. And "DREAM is Family" is more than just a campaign name – it's something we all put into practice daily, however we can. Just take the DREAM staff member who donated her household's entire stimulus check to the fund, which, thanks to her and so many others, is on track to distribute up to $250,000 of assistance by early 2021.
"I have never witnessed a school full of teachers and staff who genuinely love their children! I will be forever grateful for responding to that welcoming email inviting my kindergartner to join DREAM Charter School. Best decision I've ever made."
— Shereece Claxton
DREAM Parent
"During my most formative years, DREAM and the people there shaped my character, informed my values, and changed my life. The DREAM mission has influenced my own desire to study education and to be active in community and youth development."
— Isaac Yearwood
DREAM '18, Yale University '22
"I joined this work to support student voice and choice in and out of the classroom, and though these past few months have been challenging on many levels, they have also been an opportunity to show ourselves and each other what we can accomplish!"
— Kandice Stewart
Middle School MAPS Coach, Department Chair, & Art Educator
"The last nine months of this pandemic have been brutal, trying, and challenging. The South Bronx and East Harlem communities have been hit the hardest, but the resilience, and creativity, and compassion, and effectiveness of everyone at DREAM has been breathtaking."
— Hank Azaria
Performing Artist & DREAM Board Member
"During this crisis we saw the team at DREAM step up and show their commitment to be part of their community by offering food, wellness supports, and a choice for families of in-person or remote learning to meet students' needs. We're proud to have DREAM as part of our national portfolio of high-quality schools."
— Kathy Hamel
Partner, Charter School Growth Fund
"Despite the rising challenges faced by all school communities in 2020, DREAM remained determined to find new ways to unite and support their students, families, and staff. These efforts to go above and beyond for scholars affirm why we are so proud to work with DREAM."
— Susie Miller Carello
Executive Director, SUNY Charter Schools Institute
There's a reason we call DREAM alumni "Legends." All DREAM scholars graduate ready to embark on best-fit college and career paths—with the power and support of the entire DREAM community behind them. They do more than just show up on time and follow instructions; they're critical thinkers and lifelong learners who are ready to build, to innovate, and to drive change.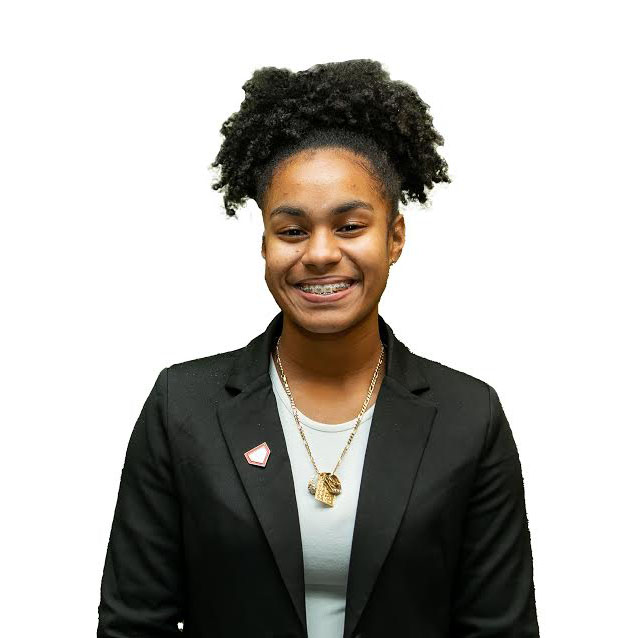 Darlene De La Cruz
DREAM Legend Darlene De La Cruz will be attending Wesleyan University this coming fall, but her path to college wasn't easy. A 2020 graduate from Manhattan Center for Science and Mathematics, Darlene was originally denied acceptance to Wesleyan, her top choice. Instead of settling for other options, Darlene took a gap year and pursued work at CityMD as a patient care representative during the height of the COVID-19 pandemic. There, the future pre-med student got her first taste of working in medicine, and learned that being a doctor is more than just the science. "I want to be part of helping people," she said. "It's interacting. It's the relationships you build."
Darlene's gap year decision and pursuit of experience outside the classroom paid off, earning her a spot in the Class of 2025 at Wesleyan, where she'll also play softball. "I could have said, 'I'm not going to take this risk,'" she noted. "But DREAM fueled a fire. They always told me there was more and opened my horizons."
#FailPersistExceed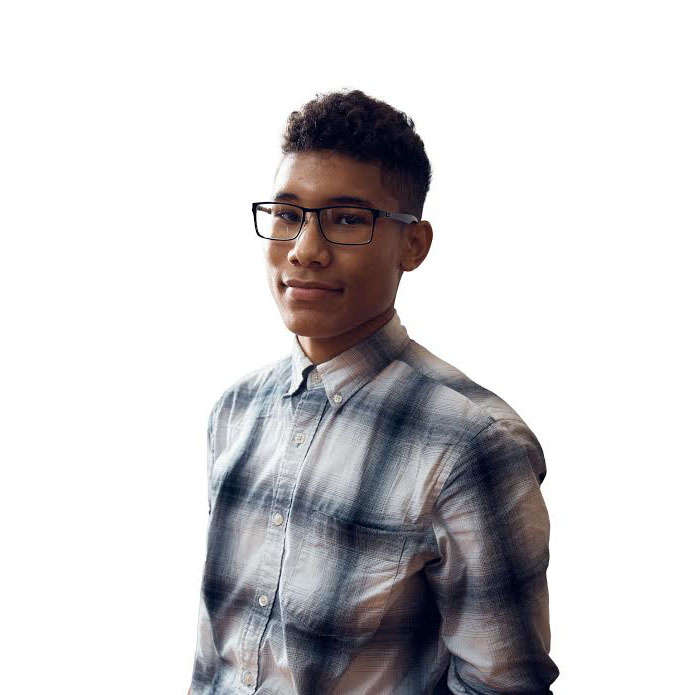 Isaac Lopez
How many high school students can say they've shared a stage with a six-time Emmy winner? DREAM Charter High School senior Isaac Lopez got the chance during an improv class featuring special guest Hank Azaria, a member of DREAM's Board of Directors and the voice of Moe Szyslak on the long-running TV show The Simpsons. "I remember when we walked into class," said Isaac. "I love Moe and I had to whip out a line."
That day in class, Isaac worked with Hank on classic improv exercises, like the "Yes, and?" principle and creating a story one word at a time. While Isaac sees improv class as a fun pastime, he knows the lessons learned will apply as he embarks on his new journey studying computer science at Tufts University next fall. "Improv teaches you to think on your feet and live in the moment," he said. "Anyone can benefit. When you're met with unexpected things, it's good to be able to bounce back."
#FunIsASeriousValue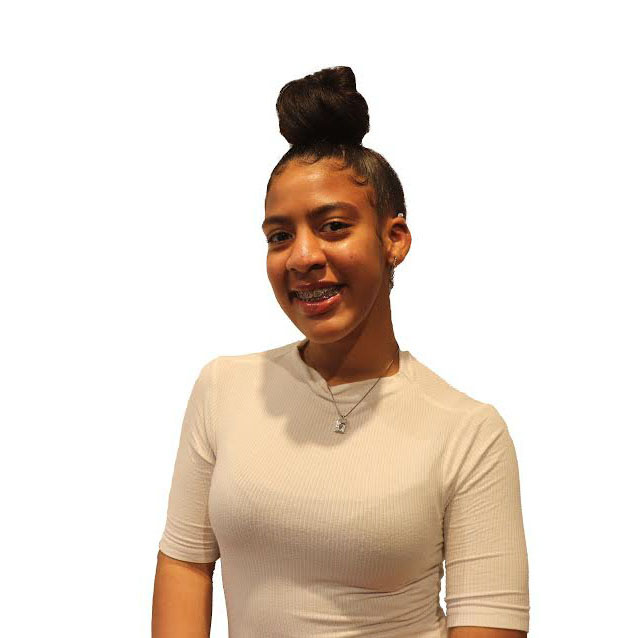 Leslie Paredes
A self-proclaimed feminist, Leslie Paredes wasn't suprised when she became the first female student at DREAM Charter High School to receive acceptance to college. At Franklin & Marshall this coming fall, she wants her focus to be pre-law and women's studies, with the hopes of becoming a civil rights lawyer. "My mom majored in criminal justice and law, and I'm interested in women's rights specifically," Leslie said, adding that she is writing a paper on women's incarceration and minority incarceration rates. "I just feel like people of color should have more of a say."
What does surprise Leslie is how far she's come on her journey from entering DREAM as a shy freshman to representing the school as a student ambassador. "I feel like I'm taking a lot with me from DREAM, especially stepping outside my comfort zone and being my own person," she said. "I'm not the girl I used to be. I feel really prepared for college."
#DREAMBig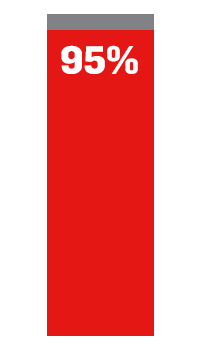 Black, Hispanic, and/or Latinx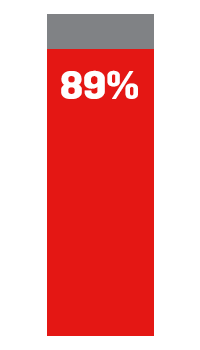 Qualify for free or reduced lunch programs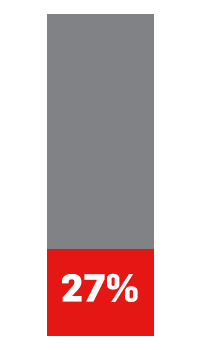 Identified special needs (compared to NYC's average of 20%)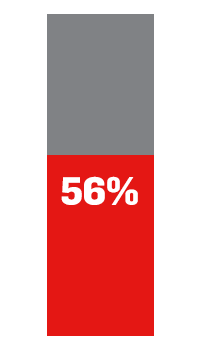 DREAM families living in a household with an essential worker
In a year like no other, DREAM distributed…
10,000
bags of fresh produce and nonperishable goods
18,000
meal kits containing breakfasts, lunches, and snacks
Stefanie Katzman has been a friend of DREAM for many years; at our 2020 A League of Our Own event, we even honored her as a member of our inaugural League of Women. Not long after, COVID-19 hit New York hard—and Stefanie stepped up.
Stefanie heads a produce wholesale/distribution company called S. Katzman Produce, which has been in her family for four generations. So when she reached out to DREAM back in March, asking about food insecurity in our community as a result of the COVID-19 pandemic, she was ready to find a way to help. DREAM partnered with her team to mobilize quickly, and by April, we had a free weekly food distribution set up for all DREAM families. Since then, we've distributed nearly 10,000 bags of fresh fruit and produce.
Stefanie's story is just one remarkable example of the ways our larger community showed up for our kids and families in 2020—a reminder that in tough times, more than ever, DREAM truly is family.
DREAM 5-Year Financial Analysis
School and Community Programs Combined

DREAM FY2020 Income & Expense
School and Community Programs Combined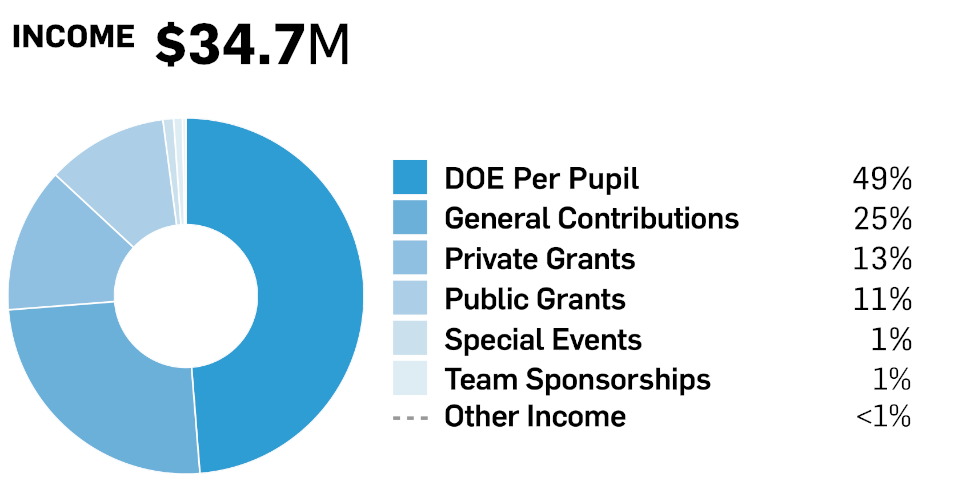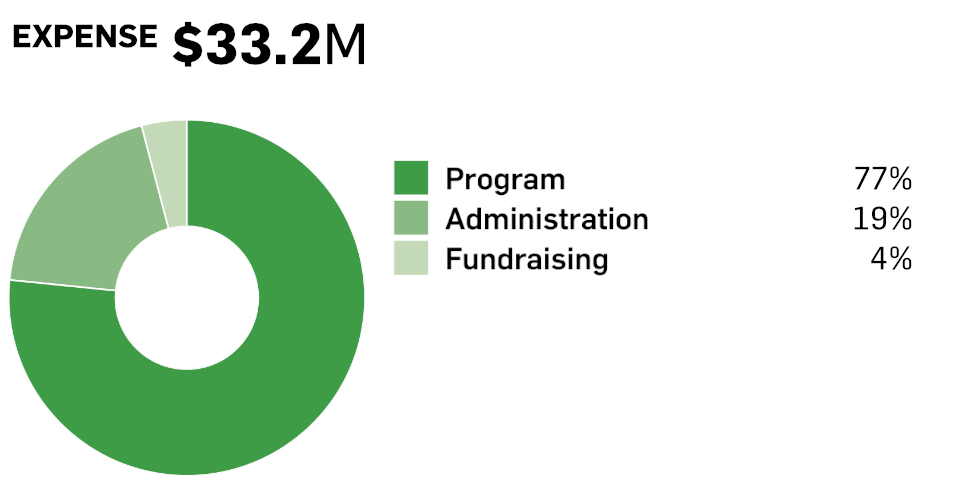 Meet DREAM
Hear directly from our students in our IMAGINE video.
Donate Today
Your support in our mission means everything.
Work for DREAM
Create a future where all children can fulfill their vision of success.
Enroll Now
All kids can. This kid can. Become a part of our community today.
Get the latest from DREAM
This list reflects general operating support from July 1, 2019 to June 30, 2020
Alkeon Capital Management
Bank of America Merrill Lynch
Seth Bernstein
David and Allison Blitzer
Charles Hayden Foundation
Charter School Growth Fund
Gary Cohn and Lisa Pevaroff-Cohn
The Daneker Family
The Joseph H. Flom Foundation
Bobby and Jill Le Blanc
Christopher and Kathryn Leonard
Major League Baseball
Donald R. Mullen Jr. and Amanda M. Mullen
Tom and Marina Purcell
Robin Hood
The Samberg Family
Vik and Margarita Sawhney
The Sobotka Family
Stadler Family Charitable Foundation
Team Scotti
Mark and Leigh Teixeira
Theodore J. Forstmann Charitable Trust
Walton Family Foundation
Anonymous
The Altman Foundation
Anomaly
Karim Assef
Hank and Katie Azaria
Barclays Capital
The Blackstone Charitable Foundation
The Blackstone Group
Cahill Gordon & Reindel LLP
The Clark Foundation
Steven and Alexandra Cohen Foundation
Davis Polk & Wardwell LLP
Ashish and Sweta Doshi
The Gray Foundation
Harris Philanthropies
Herbert and Nell Singer Foundation
Michele and David Joerg
The Katz Family Foundation
The Madruga Family Foundation
Roberto and Allison Mignone
ONEX
The Pinkerton Foundation
PwC
The Rosh Family
Select Equity Group Foundation
Simpson Thacher & Bartlett LLP
David M. Solomon
Stavros Niarchos Foundation
The William R. Kenan, Jr. Charitable Trust
Martha Berlin
Delta Air Lines
David Flannery and Amy Wilson
Heisman Trophy Trust
Katzman Produce
Kirkland & Ellis LLP
Maverick Capital Foundation
Alden and Jane Millard
RBC Capital Markets
RBC Foundation USA
Samberg Family Foundation
Jamie Stecher and Becky Diamond
The Topps Company
The Truesdale Family
BET
Bloomberg Philanthropies
Citi
James Clark and Kate Murphy
Credit Suisse
Michael Del Giudice
Deloitte
Deutsche Bank
Deutsche Bank Americas Foundation
Ellen & Ronald Block Family Foundation
FAO Schwarz Family Foundation
Frances L. & Edwin L. Cummings Memorial Fund
Fried Frank
HSBC Securities Inc.
Anastasia Kelly
King & Spalding
Vilas and Allison Kuchinad
Latham & Watkins LLP
Brian and Beth Levine
Nazar and Jennifer Massouh
Morgan Stanley
New York Mets Foundation
The New York Yankees
Nomura Securities International
Kristin Olson Smith and Dustin Smith
Alan Schwartz and Nancy Seaman
Bob and Elizabeth Sheehan
Theodore Luce Charitable Trust
Nick and Alexandra Thorne
UBS
Under Armour
Diana Weiss and Erich Stegich
Wells Fargo Securities, LLC
Wilf Family Foundations
Zeldin Family Foundation
Apple Inc.
Ardea Partners, LLC
BBR Partners
Lear and Anne Beyer
Bill Bartholomay Foundation
Michael and Eryn Bingle
Chase and Stephanie Coleman
Con Edison
Costas Family Foundation
Stuart and Elise Fraser
The Georgetown Company
Glenn Markman Foundation
Guggenheim Partners, LLC
Hiscox
The Hyde and Watson Foundation
JP Morgan Chase & Co
Brian Kelly
Anthony and Cynthia Kim
Local Initiatives Support Corporation
Robert and Colleen Manfred
Morgan Stanley Foundation
Orrick, Herrington & Sutcliffe LLP
Marc and Jayne Pillemer
PokerStars
Guy and Mehren Potvin
Proskauer
Jim and Diane Quinn
Emily Stecher and Stephen Rosenthal
Esta Stecher
Sternlicht Family Foundation
Tiger Global Management LLC
The Lizzie and Jonathan M. Tisch Foundation
Gregg Walker
Waste Management
Kevin and Amanda Widmaier
The Berlin Wittenstein Family (of Baltimore)
Anonymous
Anne Spychala Family Charitable Foundation
Matt Berdoff
Richard and Kara Berlin
Cranemere
Cushman and Wakefield
DBI Projects
Omar Eissa
Evolve MKD
Joan Fallon
Debbie and Richard Fife
Adam and Caren Fisher
Tom and Giselle Fraser
Gibson, Dunn & Crutcher LLP
HIG Capital
Jon Huerta
James F. Capalino Associates, Inc
The Joelson Foundation
Mark Kennelley
KPMG
Balachandra and Mukta Kuchinad
Alison Mass and Sal Bommarito
The Mead Foundation
New York State Health Foundation
The New Yorker
Gerrit Nicholas
Thomas O'Neill
Penguin Random House
Bettina and Kenneth Plevan
Vered Rabia
John and Sheri Reiss
Skadden, Arps, Slate, Meagher & Flom LLP
Jessica Steinbrenner
Turner Construction Company
UPS
Ben Vonwiller
What Do You Meme
YES Network
Glenn Youngkin
Steven Zacharius
Anonymous (3)
Faiz Ahmad and Tram Nguyen
Leann Balbona
Warren Bauer
Henry Belber
Stephen Belber and Lucie Tiberghien
Stephen and Rosa Bellwood
Craig Beresin
BNY Mellon
Brendan Boylan
Meghan Bracken
Thomas Bradshaw
Scott Brenner
Todd Brockett
Todd and Karen Builione
Charles Cahn
Capital One
David Caplan
James Capra
CBRE
Clifford Chance
The Charles Foundation
Alex Chi
Chicago Title Insurance Company
David Cohen
Mitch Cohen
Brett Condron
David and Jennifer Conover
Moira Cray
Robin Cresswell
Christine Davis
Susan Donoghue
Shachi Doshi
Lauren Elliot
Empire State Realty Trust
ESPN
Michael Fife
Spencer Finch
Laura Fisher
Paul Gabriel
Alexandros Giannou
Joseph Giugliano
Alan Goldfarb
Yan Gu
Johnathan Gyruko
H. Peter Haveles
Henry C. & Karin J. Barkhorn Foundation
Nicky Heryet
Hillman Consulting
Bryan Hodges
Min Htoo
Brian and Laura Hull
Colin Hutzler
William and Elissa Johnson
Robert Kamerschen
Steven Katzman
Terry and Margaret Lenzner
Wayne Leung
Michael Levine
Zach Levitt
Art Liao
Lincoln Financial Foundation, Inc
Jacob Lipton
Daniel Lobo-Berg
Daquan Love
Diane Margolin
Timothy Margraf
Richard Mark and Maura Harway
Marks Paneth LLP
Richard and Laura Marooney
Robert and Marilyn Mazur
John McCormick and Kate Pringle
Michael and Joy Millette
Henry and Hannah Millson
Stephen and Evalyn Milman
Michael and Katherine Modena
Ian Morris
Kevin Morrison
Morrison & Foerster LLP
Bill and Justyna Murphy
Colbert and Dierdre Narcisse
Natixis
NBA Entertainment
James Neu
Bryce and Jennifer Newell
Newmark Grubb Knight Frank
Nicholas Val Napolitano Memorial Fund
Jonathan and Lynn Norton
Rory O'Donovan
Tom Orlandino
Kate Osman
Chauncey Parker and Alexa Lambert Parker
Paul, Hastings, Janofsky & Walker LLP
Maryellen and Mark Phelan
Caleb Pitters
Frank Politano
Prosek Partners
Rob Raichlen
Andrew Rasiej
Scott Reinen
Seth and Libby Rosen
Hope and David Rothschild
Robert Rusk
Nicholas and Katherine Scharlatt
Richard and Susan Schnall
Steven Schwartz
SEO Foundation
Mustafa Siddiqui
Victoria Siesta
Eric Silverman
Andrew and Gerri Sommers
Elliot Steinbaum
Stephen and Alice Cutler Family Foundation
Sterling National Bank
Marc Sternberg
Jamie Sutherland and Ben Kraus
Maggie and Donald Swift
TasteMade
Tata Harper Skincare
Jack Taylor
Daniel and Jeannine Thomasch
Ken Turnbull and Leslie Spiegel
Harry E Turner
Laura Utley
Bobby VanFaussien
Carla Varriale
Vision Transport, Inc.
Karen Watai
Jeffrey and Stacey Weber
Aaron Weiner
Wheels Up
Donna Widmaier
Julia and Brian Wolfe
Claudia Zeldin and Daniel Katzner
Henry Zhang
Acquis Consulting Group
Nick and Susan Bernardo
Mark Bienstock
William Borner
Charles Borrok
John Boyle
Ronnie and Jeffrey Brenner
Jeffrey Bucholtz
Stanley and Martha Buelt
Charles and Sarah Butler
Brent Canada
John Cefaly
Pamela Chait
Michelle Coe
Alexander Cook
Eduardo Cosio
James Cusick
John Cutter
Valerie Fabbro
Mark Friedland and Leslie Newman
Brad Gardiner
Ralph Giorgio
Scott Greeder
Matt Greenstein
Terrica and John Grunewald
Sarah Haga and Damon Strub
Chris Hamilton
Gabriel Hernandez
David Hung
Stefanie Katzman
Ilhan Kirpik
M. Alexander and Lee Koch
Nicholas Kono
Rob and Suzanne Koroshetz
Robert and Maryann Korsen
Rachel and Amar Kuchinad
Carmen Lawrence
James Lee
Kristie Lilly
Kevin and Leslie Lloyd
Val Loh
Matthew Luongo and Phoebe Knowles
Erick May
Fred McConkey
Danie and Rich McHugh
Jonathan Miles
Sebenza Nkomo
Liam O'Donovan
Kaitlin O'Neil
Shalin Patel
Patrick Persons
Anthony Petzitillo
Carl Philips
Chandler Pierce
PIMCO Foundation
Jillian Pohly
Sheri Resnik
Christopher Reynolds
Nancy F. Rosenberg
Andrew Senno
Harvey Shapiro
Starr Whitehouse Landscape Architects and Planners PLLC
Michael Stecher
Donna Stein
Mickey Strasser
Danielle Strazzini
Sasha Sutcliffe
Thomas Szczepaniak
Josh Tanenbaum
Jack Teuber
Michael Weiss
Bob and Cheryl Welch
Taylor Wright
Aaron Zwas
Anonymous (2)
Benjamin Abramowitz
Neeraj Agarwal
Rukshana Ahmed
Shola Akinrolabu
Kevin Alexander
Jennifer Allen
Amazon Smile
Lillian Amoruso
Judy Antell
Christian Antonellis
Adam Ardise
Ares Management
Stephanie Armijo
Katie Babcock
Hannah Baek
Jennifer Baez
Saar and Lisa Banin
Riddhi Barman
Patrick Bataille
Barbara Baum-Gallant
Kristen Begley
Christopher Bellapianta
Eric Berger
Jordan Berger
Nancy Berlin
Paul Bethe
Alix Birdoff
David Blanchard
Adam Bloom
Bryan Boisi
Sam Brakoni
Stacey Braun
Jessica Brenner
Brooker Engineering
Lindsay Brown
Mark Bunim
Marc Burian
Audrey Buxbaum
Colleen Byrne
Seth Cadan
Brian Callahan
Margaret Cannell
Nicolette Carapellotti
Laura Carver Dionne
Tony Cella
Nadia Chait
Sasha Chait
Tania Chebli
Timothy Chen
Gregory Chertok
Sahm Cho
Jeffrey Chou
Mary Chu
Julia and Michael Ciatti
Christopher Cichella
Ellen Claycomb
Laurel Coben and Travis Epes
Charlotte Coker Gibson
Christin Colley
Christina Conroy
Erica Copulsky and Daniel Schnurman
Jill Cornell
Christopher Costello
Russell Crader
James Cristallo
Nicole Cummings
Carolyn and Philip Cunningham
Shannon Curry Hartmann
Rachel Cytron-Miller
David and Sarah Daneker
Laurie Dien
Mark Deitch and Diane Rosenthal
Nikolaos De Maria
Sylvia de Toledo
Bruce DeWitt
Aaqeeb Dhukka
Brandon Dittamo
Janet and Jeffrey Doran
Elyse and Anthony Dreyer
Joseph Drozd
Ari Dukas
Elizabeth and Nick Durastanti
Peter Early
Erin Eddy
Matthew Eid-Holm
Jason Eisenhauer
Jennifer Engelhart
William English
Sandra Evans
Michele Fabbro
Maureen Farley
Francis and Denise Farrell
Marjorie Fehrenbach
Jonathan Fein
Marc and Elise Feiner
Debra Felberbaum
Brandon Felice
Jordan Fields
Bernhard Fischer
Carlos Fleming
Inez Flores
Nicole Foster
Thea Fournaris
James Frederick
Emily Friedman
Sharon Friedman
Karlee Fuller
Mark and Gabrielle Furst
Philip Galdston
Laurel Galecki
Stephanie Gales
Jeffrey Gallotta
Christine Ganey
Daniel Gardella
Jeffrey Gencarelli
Salvatore J Gervasi
Larue Gibson
Gabriel Gillett
Arthur and Margareta Gilman
Daniel Gilmore
Bobby Giurintano
Allen Go
Ryan Goetzinger
Joyce Goldin
Denise Gonzalez
Good Today
Alexander Gorokhovskiy
Gouldin & McCarthy, LLC
Kara Grehan
Gusti Brandt Foundation
Bruce and Patricia Hammer
Curtiss Hayden
Shawn Hegele
Maxwell Heiden
William Helton
Marleny Heredia
Megan Hodges
Stephanie Holzback
Elliott Horner
Dirk Hrobsky
Paul Huang
Nicole Hui
Jeffrey and Susan Hunter
Joyce M Isabelle
Ashra Jackson
Curtis Action Jackson
Stephan Jaeger
Mark Jagiela
Melissa Jarvis Cedeno
Susan Jiang
Marcus Jones
Jubard Family Foundation
Peter Jurasits
Martin Kalish
Jacob Kerzner
Lauren Key
Francis Kim
Seung Hyun Kim
Soo Kim
Yu-Mi Kim
Arthur King
Katie Koh
Frederick Kohly
Joel Konigsberg
Deana Korby
Brett Kroeger
Anna Kunz
Melinda Kurnath
Ho Min Kwak
Xumeng Lam
Kristen Langstine
Stephanie Lanning
Harry Layman
Donna Lazarus
Christopher Leary
Justine Lee
Michael LeGrand
Susan Leigh
Aya Leiner
Samantha Levenson
Caroline Levere
Shelley Levitt
Carmella Limongelli
Susan Lipton
Alexander Ljubich
Brian Lloyd
Harry Long
Anthony LoPresti
Mary Louie
Travis Lynch
Kenneth Machlin
Ruth MacRitchie
Thomas Maguire
Katie Mahon
Rufaro Makanda
Katherine Malekoff
Timothy Maloy and Paige Cerand
Manhattan Beach Speech
Simeon Mann
Gregory G Marino
Marah Marshall
Andreas Martin
Andrew and Bethany Martin
Sally D. Mason
Susan McGuirk and Matthew Blank
Erin McStravick
Amar Mehta
Jennifer Meyers
John Minutaglio
Timothy Mister
Steve May Mitchell
James Modula
Justin Molinaro
Omar Montan
Brittany Montes
Alexander Moore
Rachel Morris
Catherine and Judith Moskal
Michael and Jeanine Moutenot
John Murphy
Aaron Narva
Kim Nichol
Luke Nicholson
Ifeanyi Obukwelu
Julie Oh
Vivian Opelt
Ben O'Regan
Courtney Orr
Sara Orr
Olena Ostasheva
Alissa Owens
Deborah K Owens
Yagnesh Patel and Deepti Patel
Joseph Pehar
Chloe Perlen
Jonathan Perrelli
Caleb Peterson
Phillips Green Foundation
Matthew Piepenburg
Kenneth and Marilyn Platzer
Barbara Pollack
Evelyn Pollack
Stephanie Posner
Jereme Potvin
Christine Pride
Michael Pry
Chad Quillopo
Joseph Quiros
Nicholas Ragovis
Veronica Ramallo
Stephan Rapaglia
Adam Rappaport
Sarah Raymond
Jennifer Reiss
Julie Reiss
Sarah Reul
Helenbeth R Reynolds
A.J. Ribakove
Richard Ribakove
Monica Richman
Jeremiah Riddle
Ben Robbins
Charity Robey
Andrew Rocha
Alex Rucker
Bridget Sabo
Jonathon Saelinger
Emmanuel Sakatis and Zara Haralampopoulos
Scott Salter
Kate Scanlon
Patricia Scanlon
Eric Schulmiller
Angela Schwartz
Peter Schwartz
Susan Seborg
Peter Sechiano
Linda Secka
Margaret Seiler
Sam Selinger
Robert Sellers
Jonathan Shapiro
Elizabeth Sheehan
Stacey Sheinbaum
Candace Shemmer
Kevin Sherlock
Michael Simon
Matthew J Sisto
David Sklar
Josiah Slotnick
Alexandra Smalky
Naydia Smith
Jessica Snider
Samuel Snider
Gabriel Sod Hoffs
Diane Louise Solomon
Lesley Sommers
Ronald Sommers
Laurence Sorkin
Kellie Spann
Rebecca Spaulding
Beth Spector
Caroline Statile
Richard Stieglitz
Clive Stocker
Paul A. and Jacqueline R. Straus
Julianne Strauss
Patrick Sturgeon
Suffolk Construction
Dave Swift
John Sykes Jr
Nancy Tarshis
Peter Tarshis
Meredith Tate
Sara Tehrani
Drew Teitelbaum
Charles Tevebaugh
Jason Thaler
Anna Thorpe
Gordon Toggweiler
Scott Toop
Brandon Tubandt
Jodi Tubiolo
Kimberly Ueyama
Jason Umlah
Tanvir Vahora
Karen Vejseli
John Voigt
Monali Vora
Thomas Vosbeek
Andrew Wallstein
Watco Companies, LLC
Scott Weinstein
Valerie Weinstein
Mark Weisman
Patricia Weiss
Craig Wenzel
Mindy Werner
Michael Whiteman
Michellen Wildin
Brian Willer
Richard Winkhart
Martin and Emily Wolff
George P Wood
Paul Wood
Virginia Woolridge
Shu Yang
Zhao Yang
Diane Young
Leighton Zema
Anonymous
Chris Abrabara
Harrison Adams
Adesola Adefalujo
Rumal Ahmed
Joseph Allard
Gary Allen
Demetra Almiroudis
Tyler Anderson
Erik Anfenson
Diana Arand
Carol Argento
Jake Aronson
William Artis
AT&T Wireless
Sally Atkinson
Sarah Atkinson
Carlos Brioso Augustin
Charles Austin
Stephanie Avdija
Joseph Bacigalupo
Patricia Barbari
Jennifer Beal
Stephen T Bellwood
Michelle Bennett
Andrea and Glenn Berg
Rahul Bhargava
Mihai Bieltz
Rhonda Biscette
Richard Blaser
Sharon Blume
Matthew Bodner
Benedict Bolton
Ian Bond
Gundula Brattke
Mark Brittain
Megan Brown
Maria Brunet
Maria Budash
Saidi Burgos
Anna Campbell
Stephanie Capobianco
Matthew Cascio
Jung Cha
Karthik Chaganti
Karen Chen
Yan Chen
Daniel Cheng
David Cherofsky
Alexander Chertok
Alexander Chin
Rob Chopik
Francis Citera
Michael Classie
Isabella Claveloux
Kaitlyn Clow
Ryan Clutter
Sarah Constantine
Alysia Contreras
Jacob Cooper
Stephen Corrado
Oliver Crookenden
James Crossan
David Cruz
Olga Cruz
Joe Cuff
Meghan Cunningham
Cheme Curet
Cailan Curtis
Pat Daly
Enrique Davila
Trevor Dawson
Philip Day
Rafael De Campos
Christopher DeConinck
Seth DeHart
Michael DeLuca
Antonia Demmers
Claire Dennis
Karen Dermer
Girish Desai
Juhi Desai
Silvio DiSisto
Mark Doerr
Anna Dominguez
Charles Donaldson
Sherry Dopson
Nicholas Drenkalo
Richard Dries
Catherine Ebanks
Laken Edwards
Omar Elsayed
Colleen Eng
Paul Enright
Cynthia Escobar
Matthew Fabbro
Lisa Farina
Micah Farmer
Sydney Fass
Lindsey Fecko
Annette Fetzer
Alec Fields
Gary Finnegan
Kathleen Finneran
Simon Fischweicher
Ashley Flanigan
Sarah Flores-Rivera
Evan Footer
Abigail Forsyth
Sam Fredericks
Edriss Froogh
Rita Fuller
Lisa Fung
Mitchell Gandelman
Deborah Garrison
Alan Germain
Frank Gervasi
Louis Giglio
Give Lively
Bibi Gluckman
Gabrielle Gluckman
Prakhar Goel
Yevgeniya Goldenberg
Joshua Goldman
Matthew Gonzalez
Raymond Goris
Deborah Grace
Alexandra Gray
Kevin Griesbaum
Joshua Griffin
Lisa Griffin
Matthew Grove
Andrew Grunwald
Kaito H
Dolores Hackett
Pepijn V Haren
Lauren Harris
Scott Hastings
Andrew Henick
Kiana Heredia
Guillermo Hernandez
Oved Hernandez
Cristie Hirschklau
Charles Holek
Bill Holmes
Jorge Infante
Ryan Isaac
James Janowski
Emmeline Jean
Wei Jing
Austin Josiah
Stefan Kalloo
Charlotte Kaminsky
Atia Karim
Puneet Kartar
Devi Kawalek
Brendan Keegan
Amir Khan
Deborah Koerner
Dani Kossin
Poul Kristensen
Andrew Kromkowski
Edward Kuhnel
Tejus Kulkarni
Cody Kunning
Linda Lam
Robert La Salle
Laura Lebow
Michelle and Maria Lefrancois
David Leibowitz
Jeannette Leighton
Ying Li
Ana Licil
Shiyun Ling
Yubo Liu
Olivia Lopes
Bonnie Lopez
Sarah Loret
Kathy Luo
Mairead Macclarence
Kevin MacIsaac
Macy's
Krishna Madabushi
Andrew Maloy
Michael Marino
Mark Mark
Barbara Marshall
Juliette Martchenko
Anjali Masand
Douglas Mata
Amy Mattielli
Christopher Mazza
Maggie McCarthy
Patrick McEvoy
John McNally
Shan Mehta
Jonathan Meindel
Heather Meloy
Stuart Miller
Lisa Miranda
Laura Mirviss
Tatsiana Mitchell
Robert Mitchnick
Sandra Monperousse
Noemi Montanez
Heather Morgan
Stephanie Moskowitz
Jane May Moss
Cindy Motta
Pradham Nandyala
Sakal Narula
Elizabeth M Nellis
Gregory Nelson
Tavis Northam
Reyno Norval
Alan and Jen Numsuwan
Kerry O'Donnell
Christopher Oglesby
Chuks Ogobueze
Kaitlin O'Grady
Hilary Olshonsky
Louisa Oreskes
Judy Padilla
Allie Palma
Tyler Park
Andrea Parziale
Ajay Patel
Orie Paul
Michael Pecorino
Paul Pecorino, Jr.
Anita Persaud
Eric Petersen
Travis Petersen
Daniel Peterson
Lucie Polk
Christina Porter
James Potter
Jeanmarie Potvin
Douglas Pula
Timothy Quagliarello
Qian Qian
Adnan Raja
Satish Ranganathan
Spencer Reiss
Liz Remington
Alessia Restivo
David Reynolds
Kaitlyn Rivera
Marie-Anne Roche
Eric Rochman
Kelly Rodriguez
Patricia Rodriguez
Adam Rogers
Kassidy Rosa
Janis Rubin
Cesar Ruiz
Pravir Samtani
Samar Sarma
Ryan Schatz
Eric Schelling
Deidre Schiela
Scott Schmidt
David Schulak
Jennifer Schulak
Trent Scott
Henry Screen
Darcy Senst
Lauren Shaw
Shiwen Shen
Nancy Sherman
Denguan Shi
Sarah Sigfusson
Vanessa Simon
Logan Sivakumar
Nicholas Sliwinski
Keri Small
Michael Spann
Adam Spivack
Bharat Sri Harsha Karpurapu
Matthew Stackhouse
Joshua Stamberg
Katherine Staniforth
Mark Stein
Emily Stone
Michael Stone
Michael Strug
Sucherman Group
Joanne Sur-Young
Yoshi Takamura
Lori Taliaferro
Tess Taylor
Casey Thomas
Marlyn Torres
Kelly Towey
Andrew Treadway
Kashyap Uppuluri
Richard Van Horn
Taran Veerman
Rui Viana
Adam Vida
Marcus Viereckl
Rocco Volpe
Kevin Waldman
Limin Wang
Adam Weiss
John Wilhelmi
Michael Wilson
Melissa Wong
Jessica Wren
Peter Xenopoulos
Lucy Yao
Isaac Yearwood
Winnie Yee
Jungho Yeom
Arturo Zaher
Anomaly
CTA Architects
Fried Frank
Holland & Knight
JCDecaux
Jones Knowles Ritchie
Proskauer
River Crossing
Skadden
305 Fitness
54 Below
Alecia Bakery
Altress
An Edited Space
Eric Anton
Apple Seeds
Aqua Studio
Bark Box
Barry's Bootcamp
Beauty and Essex
David and Allison Blitzer
Robert Bluestone
Blushington
Books Are Magic
Boqueria
Brooklyn Nets
Bubbsi
Sapna Champaneria
Ashwin Chaudhary
City Winery
Alexander Cohen
Core Pilates
The Craft Studio
Dance Theater of Harlem
Ravi Dattani
Dave & Busters
Dear Sundays
Dell'anima
Esther De Rothschild
Designer8*
DevaCurl
Eating Well
Emma's Torch
Ethos
Ever Body
Exceed Fitness
Exhale Spa
Eye 4 Style NYC
Fanatics
Fast Break Kids
The Flatiron Room
Fresh Direct
Fried Frank
Gazillion Bubble Show
Givenchy
Glam Squad
GLOW
Gold Sheep
Robert Grimes
Harlem Cycle
Hey Day
Hit House
Alka Jain
Jazz at Lincoln Center
Joanna Czek
Jomart Chocolates
Sandeep Joshi
Kaleido Scope Scholars
The Katz Family
Katzman Produce
Kenzo
Joseph Keough
Yevgeniy Khesin
Kids in Sports
David Kieselstein
L'Artusi
L`Oreal Paris
Lady M
Laser Away
The Late Show with Stephen Colbert
Legacy Box
Levain
Loli Beauty
Los Angeles Sparks
David Martirano
Nazar and Jennifer Massouh
Mastercard
Fred McAlpin III
Meridian Prime
Raymond Merritt
Mets
MNDFL Meditation
Monkey Bar
Montauk Salt Cave
Museum of Illusions
Museum of the City of New York
Nanno
Nerai
Neuhaus
New York Knicks
Eileen O'Connor
Oleamea Organic Olive Oil
One Chance Media
Thomas O'Neill
The Paint Place
Anush Parikh
Kirtan Patel
Manish Patel
Nandan Patel
Sarvil Patel
Pips Island
Pizza School NYC
The Playroom NYC
Porchlight
Pure Barre Tribeca
Push Pedal NYC
Adam Raben
Refine Method
Ripped Fitness
Roger Smith
Roni-Sue Chocolates
Rumble
Sabon
Sage Music
Harry Schiavi
Shadow Box
Ravi Singhvi
Skin Spa New York
Sky Ting Yoga
Sleep No More NYC
The Sobotka Family
Sojo Spa
Soul Cycle
Spartan Race
Steven & Alexandra Cohen Foundation
Sean J. Sullivan
Switch Playground
Tamarack Country Club
Joyce Tenneson
Frederick Tennille
Tone
Tone House
Topps
UES
UGGS
Vive Cosmetics
Y7
Krishnaswamy Yeleswaram
Yoga Spark